The following are rates for moving/transport services for our U-Store customers to move their belongings into U-Store self-storage unit(s):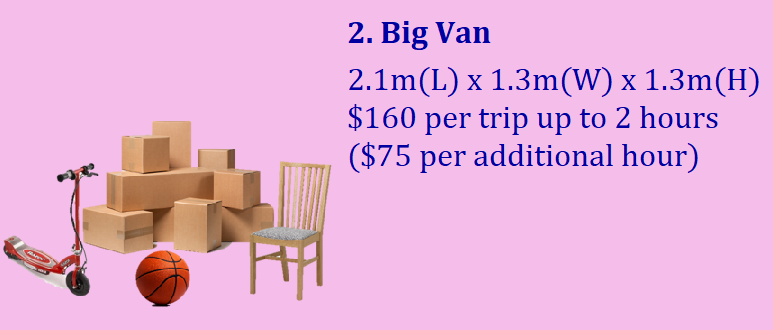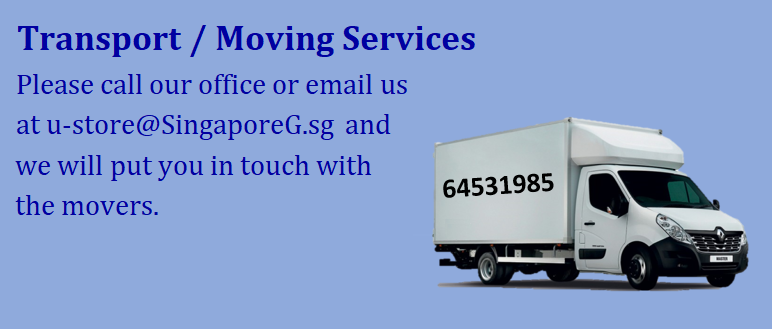 PLEASE NOTE:
Van driver will assist with basic loading/unloading to/fro premises (residential or otherwise) to/fro vehicle.

Additional charges for addresses with no lift landings, e.g. landed (2storeys and above), walk-up apartments, etc., may apply

Additional manpower (to carry bulky items, e.g. sofa) at $80 per trip up to 2 hours ($40 per additional hour), with advanced notice

For truck services only, additional charges for packing services/materials apply
TERMS AND CONDITIONS
Latest time for delivery of your belongings to U-Store is at 5.30pm on weekdays (Mondays to Fridays) and 12.30 pm on Saturdays. The above transport service will NOT be available on Sundays, Public Holidays and for areas like Jurong Island, Changi Cargo Complex, PSA-Tanjong Pagar, the Airport, Military/Defence camps/compounds and Sentosa.


Payment will be due immediately upon arrival of your belongings at the U-Store premises. Please go to the office to make your payment before offloading your belongings.